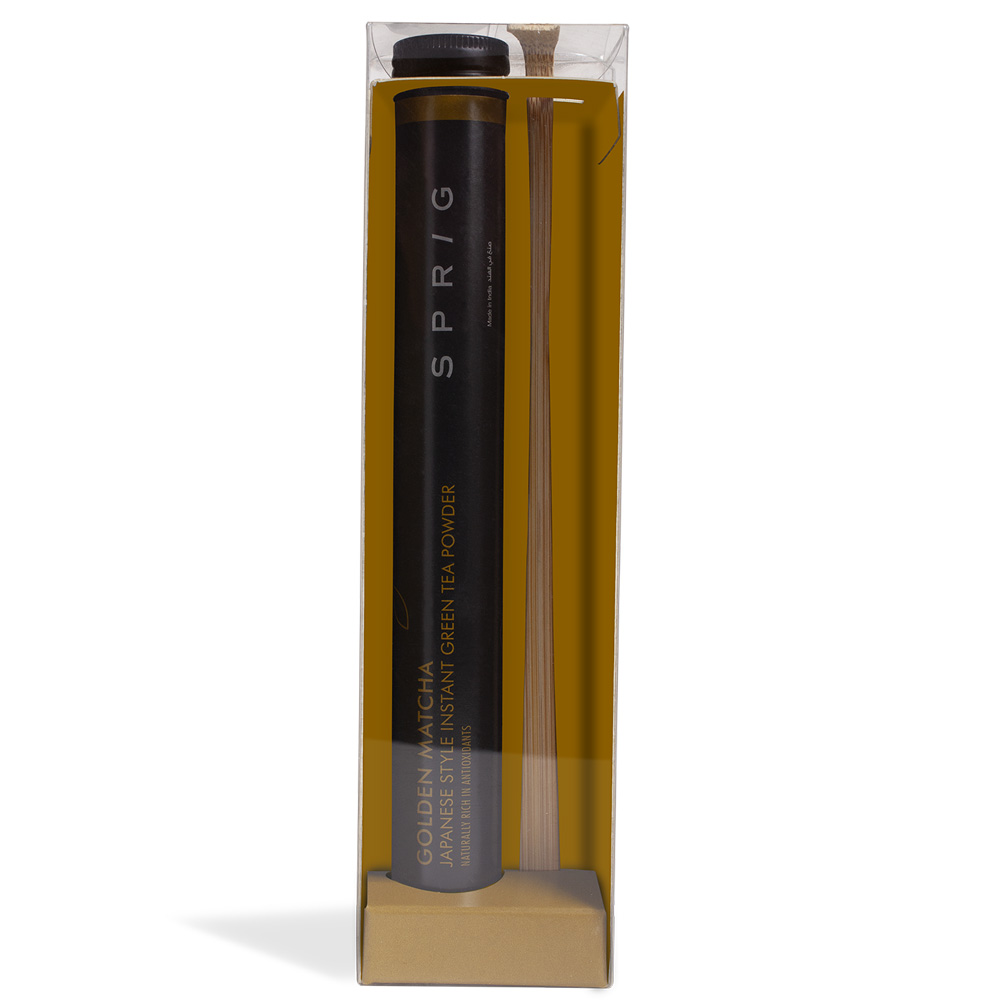 Golden Matcha
لماتشا الذهبي
Golden Matcha – Sip Your Way to Goodness
Would you like a cuppa that promises double the antioxidants of green tea and is prepared in less than half the time? Or a hot, aromatic tea that keeps your metabolism and spirits high through the day? Say hello to Golden Matcha tea powder – high quality green tea in its purest form.
A simmering, teasing, refreshing cup of deeply intensely pure green tea – the Golden Matcha from Sprig provides you with an instant and stimulating nutrition boost to your day. Its powder form ensures that all of the goodness is stirred into your cup of green tea.
Net Wt: 50 gm (100 cups)
Description
What is Golden Matcha? Matcha is a powder form of the fresh green tea leaves that are plucked when tender and instantly turned into powder form to retain all of its powerful nutrients. No more wasting precious antioxidants with the green tea leaves that are thrown away after brewing. Dissolve a tiny scoop of Golden Matcha in hot water and get your daily dose of polyphenols in the same moment.
The health benefits of green tea are well known – its catechins and flavonoids prevent a host of diseases from cancer to Alzheimer's and Parkinsons. It even raises metabolism to help lose weight. Who knew staying healthy could be so tasty and easy.
Value for your cuppa Your rupee goes a long way with Golden Matcha. A Rs 499 pack lasts you almost one and a half months, preparing two cups a day, as every speck of your green powder is used to make tea. There is no wastage of precious tea leaves or money, and one pack gives you 100 cups of flavourful, enriched green tea!
Using Golden Matcha Golden Matcha is perfect as a start to the day, an anytime pick me up, or a soothing night cap. The caffeine in it is released slowly over four hours, preventing the usual high and crash that accompanies a regular cup of coffee.
It is also a wonderful flavour to add in ice creams, custards, and even liqueurs – dissolve in hot water, cool and use. Remember to add just a pinch as Golden Matcha is a concentrated green tea powder, captured straight from tender leaves to powder.
Golden Matcha powder can also be added to smoked chicken by sprinkling it over the barbeque, and to broth in oriental fish gravy. The flavours are addictive enough to get you experimenting happily in your kitchen.
Spiritual, and stimulating
Inspired by the traditional and spiritual Japanese Matcha ceremony, Golden Matcha, though different in its composition, comes with the traditional hand crafted bamboo Cha Shaku or tiny tea scoop to measure out just that right amount for a cup of warmth and health. Make your cup of Golden Matcha the start to every morning, and let it become a moment of spiritual connection with all that is good and healthy.
Ingredients: 100% green tea powder
Usage: Scoop out a measure (0.5 g) of Golden matcha using the handcrafted Chashaku. Add it to a cup and top it with 150 ml of hot water. Relish a refreshing cup of Golden Matcha green tea
Storage: This product comes in a convenient Aluminium tube. Store in a cool, dry place.